Link original : http://www.freshplaza.com/article/9276117/food-safety-more-of-a-focus-for-consumers-than-packaging-sustainability-in-covid-19-affected-year/
The COVID-19 pandemic has temporarily shifted consumers' views when it comes to the priority of sustainability in fruit and vegetable packaging, according to Produce Marketing Association Australia-New Zealand.
Head of Food Safety, Deon Mahoney told a recent webinar that while there are overall goals to make packaging environmentally friendly and reduce waste, there is also a focus on food safety, especially with the coronavirus impacting the world. He explained that early in the pandemic there were many myths circulating that packaging or even fresh food could transfer the virus to humans – although any such concerns have since been deemed by health authorities around the globe as extremely low risk.
«Increasingly, I have seen through this process is that people are nervous and because of the misinformation about food safety, they prefer products that aren't packaged, so the grubby hands of other consumers haven't touched them,» he said.
«In saying that, there is a trend towards pre-packaged, but that generally isn't consistent with our goals of sustainability. I find one of the challenges that consumers face when they walk into a grocery store or a supermarket is that all the fresh fruit and vegetables are all laid out for them. There is a misconception that these products are 'ready to eat'. However, under food laws in Australia, they are not ready to eat unless they are packaged and marked as such. So, an apple is not a 'ready to eat' food under the food standards code. It is expected that the consumer will take it home and wash it, but a lot of people don't do that – so they're not handling it in a hygienic fashion.»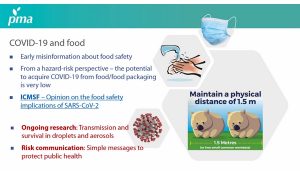 Melanie Norris from Nielsen added that while sustainability is less of an issue this year, it will come back as a focus next year and innovation in this space is needed.
«It has been less of a concern this year, but we think it will come back next year to being a top concern, and innovation in this space is needed,» she said. «It may have been that the food safety part has come into play (in 2020). People are thinking that maybe it is not that safe to grab a loose apple or piece of stonefruit. We've seen bananas have a fantastic year, maybe because they are naturally wrapped.»
Merchandise Manager for Fruit at Woolworths, Warwick Hope says that company research has found that customers will point out they do not want the packaging, but their behaviours say something completely different.
«It is the same conversation in the broader supermarket sense,» he said. «For example, the claimed preference for Australian-grown (fruit and vegetables) is a very strong conversation that we have with customers, but you don't always see that play out at the shelf. It is a fascinating study in human behaviour; customers don't want plastic, they want sustainable solutions – yet they will still buy them. The challenge for us as an industry is to think about ways to deliver action that the customer actually wants. It is a challenge we need to think about from a broader industry sense, because the reality is that if someone does it for a competitive advantage, then the customer will accelerate that demand and expect it. The customer has to also be willing to pay for it. So, we need to deliver efficiency and great value to the customer, not just an additional cost.»
Mr Mahoney says another key issue of the pandemic was Occupational Health and Safety (OH&S) among fruit and vegetable workplaces, including orchards, packing sheds and transport services. The food supply chain was an essential service, which meant that it was vital to keep each sector operational.
«People interacting with each other presented the biggest risk, in that we would have transmission of the virus and we would lose our ability to service our customers,» he said. «There is a very strong emphasis on industry educating and managing employees. I think it is about organisational culture, and culture that emphasises occupational health and preventing infection between people – but also promoting food safety. So, we have had this opportunity to stress to our employees the importance of keeping safe and protecting their fellow workers. We can push that along into the concept of food safety and culture where employees throughout the entire supply chain are focussed on good higiene and good practices (even beyond the pandemic period).»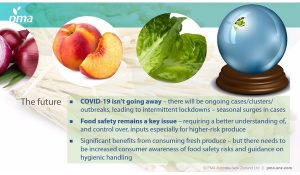 He added that a negative to come out of the COVID-disrupted year was food waste, which he says needs to be addressed.
«We need to have better advice, better guidance about use-by dates, and how to handle food products,» Mr Mahoney said. «I know the Food Waste CRC is starting to look at this particular issue. People accumulated a lot of food very quickly early on, and there are now probably weevils in the flour or pasta that is going off because people stockpiled large quantities that won't be used.»
A separate study conducted by Rabobank found that annual household food waste in Australia reached $10.3billion in 2020. Also, 7.3 million tonnes of food is wasted each year across the supply chain, and of that 2.4 million tonnes comes from households.
For more information
PMA Australia-New Zealand Ltd
Phone: +61 455 462 097
[email protected]
www.pma-anz.com