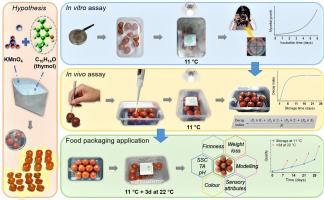 – Active sachets with antifungal and ethylene scavenging activities were developed.
– KMnO4-loaded sepiolite (SK) was used as ethylene scavenger.
-Free (T) or encapsulated thymol (ET) as antimicrobials were carried into the sachets.
-T-containing sachets led to the highest Botrytis cinerea inhibition (≥91 %).
– SK- and T-including sachets comparably restrained B. cinerea incidence on tomatoes.
Leer Artículo